PROGRAMMING NOTE
TimeMachiner's The Stream will be moving to a set schedule. You will receive issues on Tuesdays and Saturdays going forward.
With this new schedule, not every issue will contain five articles. Some will have more or less. However, you will always know when a new issue is inbound.
Lastly, The Longform was not published last week due the US Thanksgiving holiday. Your email didn't eat it; I forgot to mention it in the prior issue. But don't worry. It's being worked on and will land in your inbox next week at the usual time. 🦈
-Aaron
Thanks for subscribing. 
Forward this to a friend who'd enjoy it too. They can subscribe here.
Keep TimeMachiner sustainable by purchasing a Time Traveler membership. 
Here are the last five posts to the TimeMachiner Stream:
Wirecutter Goes On Strike
November 29, 2021
I've talked about Wirecutter before and how it's one of the three tools I use when doing any online shopping. The site has been around for years and does fantastic work. I never have to spend hours figuring out which item is best. I read one article and then make my purchase.
All is not rosy for Wirecutter as the Wirecutter Union announced a strike lasting from Black Friday through Cyber Monday. The strike was due to being treated poorly by the NY Times. The union has asked people NOT to shop via affiliate links that helps generate revenue on Wirecutter.
Wirecutter was always treated as a second-class citizen, isolated in its own Slack, its own offices, and its own reporting structure under Perpich. It never joined the newsroom, and its work was openly sneered at by some longtime staffers. Many Times staffers don't believe their work is journalism at all. The pay scale, as well, is substantially different from Times salaries. Even Times fellows, which are yearlong full-time jobs in the newsroom designed to train emerging journalists, receive a significantly higher salary than the starting rate for Wirecutter writers.
Imagine working for a company that is owned by one of the most prestigious newspapers in the world and being excluded. Meanwhile NYT profits off Wirecutter's work even moreso now because it's part of a NYT subscription. You would want equal pay and treatment as a NYT employee and not walled off as if you're on an island by yourself. A flimsy reply as to the lower salary is facepalm-city.
We have been told at the bargaining table that @wirecutterunion members "don't do New York Times work" as an explanation for our much smaller salaries.
Mr. Austin's tweet is accompanied by photos of extensive holiday guides published in print in the New York Times.
For all the noise Wirecutter's union is making, I hope there can be a solution that gets them what they deserve and brings some piece at NYT. Wirecutter is essential to so many people. There is no reason to undervalue the people who do that work.
Streaming To The Bone
November 29, 2021
Keza MacDonald has done exquisite work bringing to light the insane grind it takes to be a streamer on Twitch.
"My sleep schedule shifted into the North American time zone because most of the people who were viewing my channel at the time were there," says 36-year-old Cassie, a founder of the Black Twitch UK network, who has been streaming for five years under the name GeekyCassie. "I would do my day at work, nap a bit, and then stream for up to eight to 12 hours at night-time. I'd be absolutely beat, and then get up and do my work again … People burn out and then they don't enjoy it any more."
It's one thing to have a side hustle (👋🏻 Hello TimeMachiner readers) and work on that when you have time and when you can MAKE time. It's another to work that side-hustle for more hours than a day job and get no sleep. The sad part is Twitch streaming pays peanuts or literally nothing to most of their streamers.
The top 1% of streamers on its platform received more than half of the $889m (£660m) it paid out to creators last year; three quarters of the rest made $120 (£89) or less. Millions made nothing at all.
It seems subscribers are quite fickle too.
When Ninja – who is by most standards the world's most successful video game streamer, with an estimated $10m in yearly earnings and 17 million followers – took two days off to attend a tournament in 2018, he lost 40,000 subscribers. And despite the fact that he could absolutely do without those subs, he was furious about it.
Imagine taking 48-hours off to do something related to your streaming job and people STILL penalize you for it. That's some next-level BS. It's an immense amount of pressure to put on younger people who may not understand the need for work-life balance.
Twitch has certainly fallen into the same position as YouTube: people are drawn to become creators because they see the ultra-successful ones doing it. They have no idea of the years it takes to learn the ropes. The skills it takes to become successful are normally hidden behind so much work. The idea of "overnight success" is definitely a lie. But it's not what people see because those who are ultra-successful are very good at what they do. There's also a lot of luck involved. Many of the big names in streaming and YouTube creators were also early to the platform. That helped a lot.
For anyone thinking about getting into this realm of work, I would offer this one key of advice: do it because you love it. Because if you don't, it seems designed to eat you alive.
Jack Dorsey Leaves Twitter
November 29, 2021
From the "things I didn't see coming" category is the announcement by Jack Dorsey (Twitter's co-founder) that he is stepping down as Twitter's CEO. He, of course, announced it in a tweet. It's more of a one-liner of text accompanied by a screen shot of his email he sent to the company.
not sure anyone has heard but, I resigned from Twitter

Originally tweeted by jack⚡️ (@jack) on November 29, 2021.
To tl;dr the whole thing, he basically doesn't want Twitter to be a "founder-led" company at this time and feels it would be better if someone else were at the helm. I can't say I blame him. Microsoft has flourished since Steve Ballmer left. Apple has done the same with Tim Cook leading the company after Jobs' death.
There is something to be said by letting a company stand on its own, without the founder meddling with everything. Twitter has been through a ton over the years, but this will be an interesting milestone when we look back. Time will judge how this decision plays out. Jack Dorsey is pretty smart. Not only did he do all this work with Twitter but he also founded Square. That system of accepting payments is ubiquitous among most small businesses. I don't think he'll be bored for work any time soon.
Here is the entire screen shot of his email, which was included in the tweet: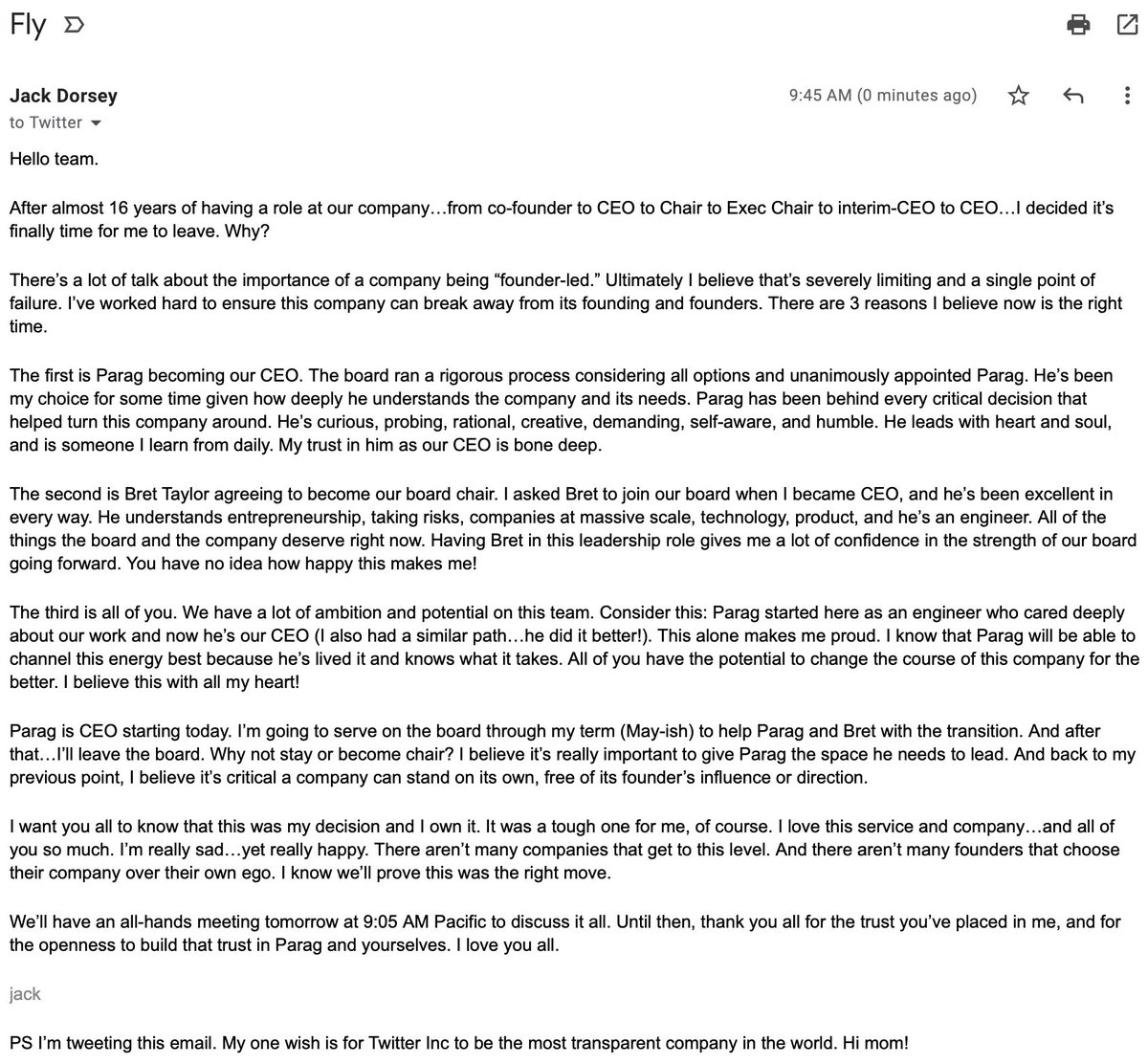 8-Bit Christmas: The Ultimate 80's Nostalgia
November 29, 2021
Christmas movies are always tough to nail right. Sometimes they're too cheesy or too serious. The timeless ones are timeless for unknown reasons because they can still be too serious or too cheesy. A Christmas Story was basically unknown until TBS decided to run it endlessly on Christmas, turning it into a modern classic. A new challenger has entered the arena this year: 8-Bit Christmas.
I checked it out this past weekend and this will be my spoiler-free thoughts. This movie stars Neil-Patrick Harris narrating a story to his daughter about his adventures in 1987 to get a Nintendo (which we call did and STILL call the NES). It's told in lengthy flashbacks and invokes many parallels to A Christmas Story. A boy wants something so bad for Christmas, he will go to the ends of the earth to get it.
With shades of "A Christmas Story," Doyle's story is about a starstruck child obsessed with getting only one thing for Christmas despite every adult in his life telling him that it is a bad idea; however, instead of desiring a Red Ryder BB-gun like Ralphie Parker, Jake Doyle wanted a Nintendo gaming system. 

Noah Domangue writing ay The Nicholls Worth
The sets and scenes are very 80's and remind me of those years. Little nods to how things are different are funny jokes such as the daughter asking if everyone wore a helmet when riding their bikes. Of course NPH emphatically tries to lie & say we all did. The story is fun and has some of the adventuring feel found within the first season of Stranger Things. There is a freewheeling and positive vibe from the kids and how they band together to get an NES.
8-Bit Christmas is a fun movie to check out, given something new that isn't a pure reboot is hard to find these days. It doesn't have any harsh language or violence, so it's a good one to watch with the kids. Even better, it's streaming at home so you can stay home and watch from the comfort of your couch. I had fun with it and may revisit it in the coming years as another good Christmas movie to have in the rotation.
Ridley Scott: Old Man Yells At Cloud
November 23, 2021
Leave it to the old vanguard of Hollywood to blame their failures on anyone else but themselves. This time around it's Ridley Scott, mastermind of amazing movies, who's looking for a scapegoat because his latest film, The Last Duel has bombed.
"I think what it boils down to — what we've got today [are] the audiences who were brought up on these fucking cellphones. The millennian [sic] do not ever want to be taught anything unless you're told it on a cellphone," Scott said.
The Last Duel hit theaters exclusively on October 20th and earned $27 million worldwide. The film cost $100 million to make. Scott could blame "millennials" but that's BS. When you look at the competition, it makes sense why this movie didn't stick the landing. Halloween Kills was on screens at that time for its first week. It was a hyped movie for the Halloween holiday and a return to form for the long-running franchise. The Last Duel then had to contend with Daniel Craig's swan song No Time To Die. This latest Bond film had been delayed since April of 2020. Anyone who's a fan of Bond was eagerly waiting to get to see it. Finally, the competition continued with a big-budget revisiting of the classic Dune.
I haven't even brought up the fact that many people are still not comfortable going to the movies. When you do go, the experience usually sucks because others can't behave themselves. Putting all that aside, the movie itself can handle the heavy lifting to turn people off. Here's the movie's one-line synopsis: King Charles VI declares that Knight Jean de Carrouges settle his dispute with his squire by challenging him to a duel. This does not inspire me to want to see it.
Perhaps Ridley Scott hasn't considered something that may be obvious: maybe his movie simply sucks.
📫 If you enjoy TimeMachiner forward this email to a friend so they can get in on the action. They can subscribe here.
Thank you for reading and sharing.
-Aaron
⚡️ Fun Fact: TimeMachiner is sent with NO spy tracking.
This means I have no way to know if you opened, read, or clicked on anything. I respect your privacy. So if you have something to say, simply reply to this email.